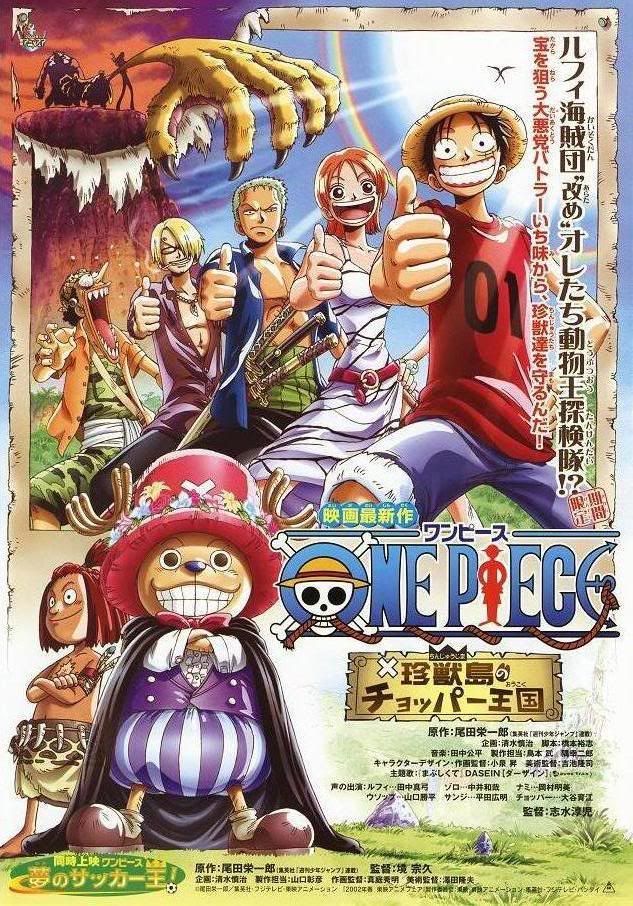 OnePieceLover.com - Info seputar film One Piece yang berjudul
Chopper's Kingdom on the Island of Strange Animals
. Ini adalah Movie yang ketiga dari seri
One Piece
yang memiliki cerita sendiri dan terpisah dari alur dan cerita anime dan manga One Piece. Kisah yang berpusat pada
Chopper
yang mendadak menjadi seorang
Raja dari segala hewan
.
Staff Film One Piece
Chopper's Kingdom on the Island of Strange Animals
adalah sebagai berikut :
Kanji : 珍獣島のチョッパー王国
Rōmaji : Chinjū-tō no Choppā-ōkoku
Direktur : Junji Shimizu
Penulis : Hiroshi Hashimoto
Musik : Kōhei Tanaka
Tanggal diluncurkan : 2 Maret 2002
Lama tayang : 56 menit
Penghasilan Box office : ¥2,000,000,000 (Motion Picture Producers Association of Japan) ,
$13,107,237 (Box Office Mojo)
Sinopsis
Kelompok Bajak LautTopi Jerami tiba di Pulau Crown, di Pulau ini ada legenda yang menyatakan bahwa harta yang besar tersembunyi disana. Tony Tony Chopper dipisahkan dari kru Bajak Laut Topi Jerami yang lain, dan ketika ia bertemu seorang anak bernama Mobambi, Chopper dipuji sebagai Raja Hewan baru pulau. Di pulau itu terdapat Count Butler, Jendral Hotdog, dan Presiden Heaby, yang mencari harta karun yang tersembunyi di pulau ini. Ternyata harta karun itu kekuatan besar yang terkandung dalam tanduk Raja Hewan. Kemudian terjadilah pertempuran besar antara kelompok Butler dan Topi Jerami tanpa henti untuk mendapatkan Kekuatan Raja Hewan.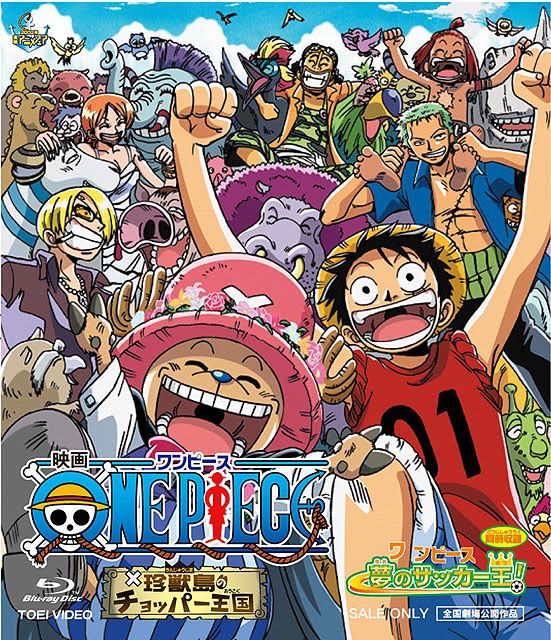 Berikut ini adalah tampilan Chopper saat menjadi Raja Hewan
Musuh Bajak Laut Topi Jerami pada Film One Piece Chopper's Kingdom on the Island of Strange Animals
Untuk info seputar Film One Piece Movie yang lain silahkan menuju
Info Film One Piece
.
Sumber : One Piece Lover, Wikipedia, dan Wikia
Artikel Terkait :